Community
Flexibility of Shopping with Shipt Allows Teachers and Students More Earnings Opportunities During the Summer
Jun 27, 2022
Flexibility of Shopping with Shipt Allows Teachers and Students More Earnings Opportunities During the Summer
Summer months mean a classroom break for some teachers and students, and thanks to the flexibility of Shipt, some choose to increase their earnings by Shipt shopping
One in six teachers use second jobs to earn extra income in the summer, and 43% of full-time college students work throughout their time in school. Shipt is proud to have many teachers and students shopping with us when it makes sense for them.
We love connecting with shoppers and finding out why they enjoy Shipt shopping, and Chrissy and Tiff delivered!
Chrissy, Alabama
Chrissy is a shopper in Alabama and a full-time teacher at a school designed to support students with dyslexia– one of only three schools like it in the state. Chrissy works with her students to build learning plans and habits that help them achieve their goals and eventually return to a traditional classroom environment. Since January 2021, Chrissy leaves school each day and starts shopping for Shipt.
"I was immediately obsessed with Shipt shopping. I felt like I was helping people, and it wasn't just about the extra money. I was making friends with my customers, helping to serve them."
Now that summer is here, Chrissy will be shopping during the day as well as her usual shopping hours on evenings and weekends.
"I will shop as much as I can this summer. I will be teaching a little bit during summer school hours, but Shipt shopping will be my focus."
Chrissy loves the flexibility of shopping with Shipt and the ability to build relationships with her community, preferred members, and store employees. She goes out of her way to invest in relationships and know her members. Because of her dedication to her customers, Chrissy has dozens of preferred members that have selected her to be a regular shopper for them.
"We develop these relationships with not just our customers but the store employees. They make sure I get to my car ok if I'm leaving the store late at night, and I never have to worry about being safe because I know who they are. It has been a blessing to get to know the people who work at the stores."
Like all Shipt Shoppers, Chrissy is passionate about serving others through shopping for their groceries and daily essentials.
"I feel like my gifts are service and giving, and both of those go hand in hand with shopping for Shipt."
Tiff, Georgia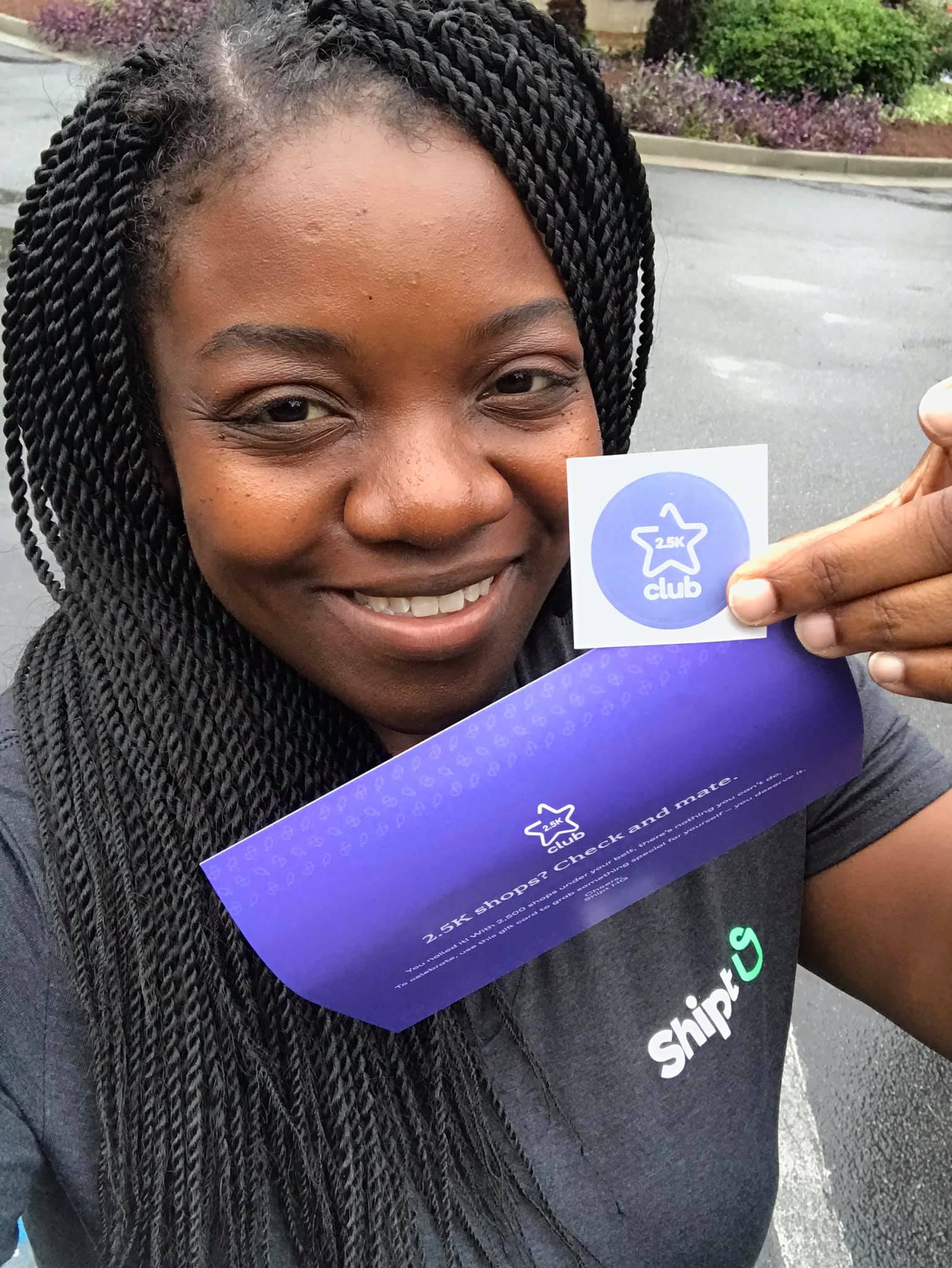 Tiff is a full-time student and Shipt Shopper working in Georgia. As Tiff is pursuing her Bachelor of Fine Arts with a concentration in theater, she needs a flexible work option that allows her to schedule around her classes, theater rehearsals, and other creative projects.
Tiff previously worked traditional jobs in pharmacies or the service industry, but none of those options worked with her school and rehearsal schedules. Tiff signed up to Shipt shop shortly after the COVID-19 pandemic began in 2020 and has been shopping ever since.
"I don't have to worry about scheduling conflicts – being in school and working enough to pay my bills would have been impossible without Shipt."
In the summer, Tiff is able to shop for several days and then pause shopping for a week to pursue her creative side and complete assignments for her internship at a dance studio. Tiff shared that Shipt helps to support her creative side by allowing her to sign up for more shops when she has extra equipment or project items she needs to purchase.
"Shipt doesn't just fund my bills, it funds my creativity. I am able to invest in my creative business because of Shipt."
Happy summer and happy shopping to all of the amazing Shipt Shoppers!
Shipt has made it a priority to maintain a flexible working model for shoppers. Factoring in offer pay, bonuses and tips, Shipt Shoppers made, on average, between $25-35 per hour last year. Shipt also has a Shopper Perks program that provides shoppers access to discounts for personal health and pet insurance, prescriptions, gym memberships, legal advisors, and more. To learn more about becoming a Shipt shopper here.