Company
Shipt Announces First-of-its-kind Business Snapshot Report
Sep 20, 2021
Shipt Announces First-of-its-kind Business Snapshot Report
Delivering Results: A Shipt business snapshot of trends and insights setting the new pace of retail delivery.
When Shipt was founded in 2014, we launched in Birmingham, Alabama, delivering to families in our backyard. Today, we reach over 80% of U.S. households nationwide. Reflecting on where we've come and where we're going is important: our industry has grown and changed and how Shipt has evolved to fit the needs of consumers and retailers alike.
We're pleased to introduce our very first Shipt Business Snapshot report, a peek behind the curtain into Shipt's business including updates, advancements and investments shaping our business and our industry today-- from unique shopping habits to how we're sparking connections with customers and providing them an industry-leading experience.
For those of you new to Shipt--or new to same-day delivery in general--welcome! We look forward to introducing you to a whole new way of shopping at your favorite stores- without ever leaving your home.
And for our regular customers, Shipt Shopper community and partners- thank you. We're excited to show you what's in store.
But first, a look at where we are today and how far we've come:
An introduction to Shipt by the numbers: A peak at our strategic growth, from southeast startup to nationwide personal shopping and delivery specialists
Growing in Size
Shipt is available in 5,000 cities from over 130 retailers.
Shipt delivers 20+ categories of products--everything from fresh groceries to electronics to baby clothes and pet food.
Shipt saw a 252% increase in orders in 2021 compared to 2019.
Recently, Shipt embarked on its largest nationwide expansion in three years, adding nearly 1,000 new store locations to now reach an additional 2 million households.
Growing in Speed and Value
The vast majority of all orders between January and July 2021 (over 91%) were delivered within five minutes of the designated delivery window
90% of shop-and-deliver orders completed between January and July 2021 were rated 5-stars
Shopper attentiveness, convenience and timely deliveries are among the top reasons our customers choose Shipt (according to a Shipt member survey from Jan.21-July 21)
Growing our Community
We proudly connect hundreds of thousands of shoppers with opportunities to earn income in a way that makes sense for them, with flexibility being one of the primary reasons shoppers tell us they work on our platform
The shopper community tripled over the past two years, now approximately 300,000 strong
Growing with Purpose
Our purpose and values serve as the foundation for our long-term growth, and will drive all that we do to ensure we are contributing positively to our communities and society at large.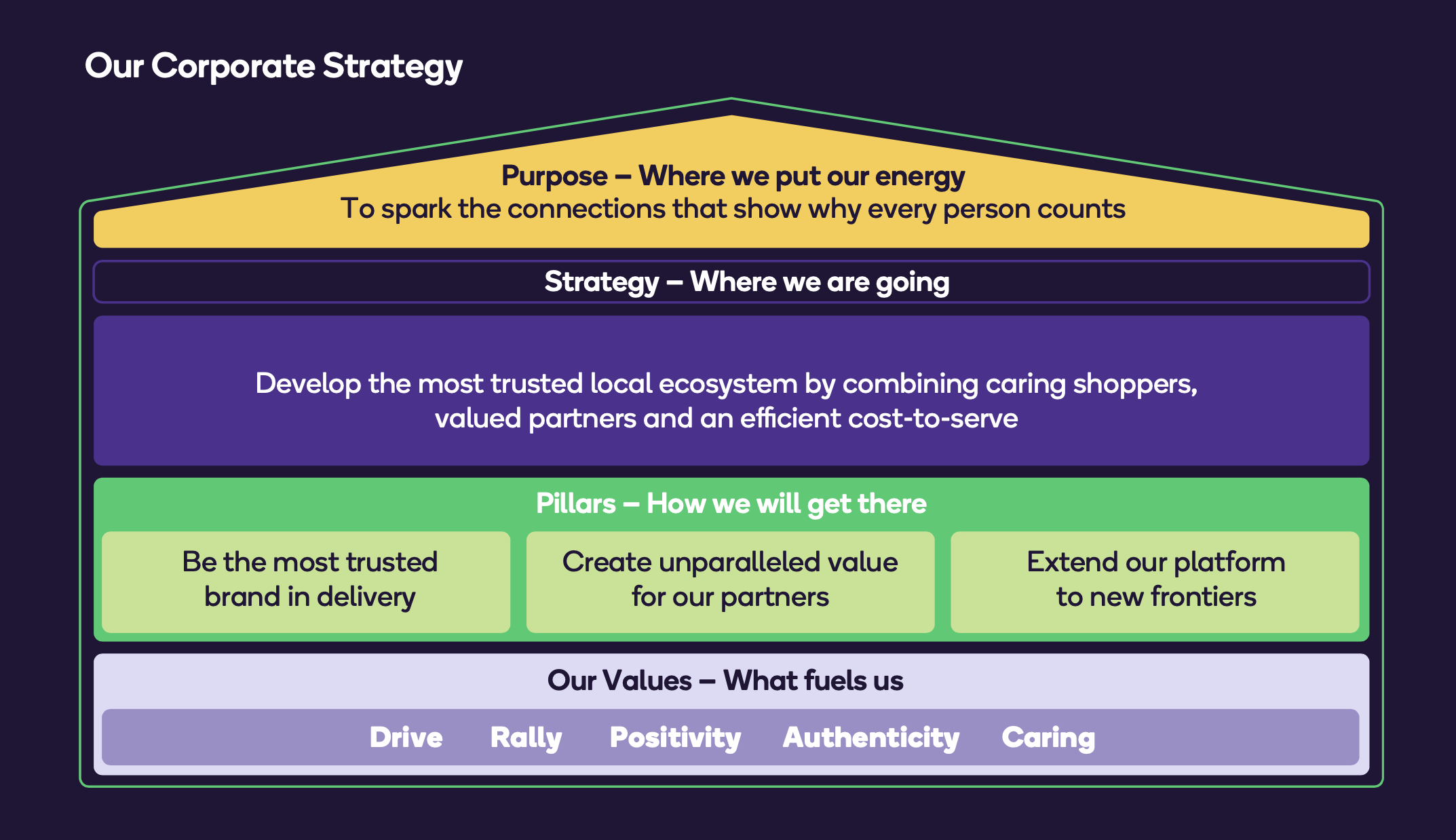 The insights that drive us:
A peek at consumer shopping behaviors from the past year and beyond
While we may not be able to predict the next March Madness winner or the next hottest runway fashion trend, there's one thing we do know: personal shopping and same-or-next day delivery is here to stay, and we have the data to prove it.
25% of millennials do "most" or "all" of their grocery shopping online, up from 14% pre-pandemic.
In fact, the experts at Morning Consult found that younger consumers (i.e. millennials) are largely driving the growth of online grocery shopping more than any other generation, with 2 in 5 millennials turning to their phones for at least half of their grocery trips and Whether they're looking for convenience while starting new families, moving to new cities or going back to school, fast delivery will be a mainstay for those who used before and during the pandemic.
The weird and wacky: What's flying off the shelves?

How the pandemic has shaped consumer shopping behavior: our data analysis and observations The below is an example of the trends Shipt witnessed throughout the pandemic, providing an intimate look at how shopping behaviors have shifted and evolved- some temporary and some for good!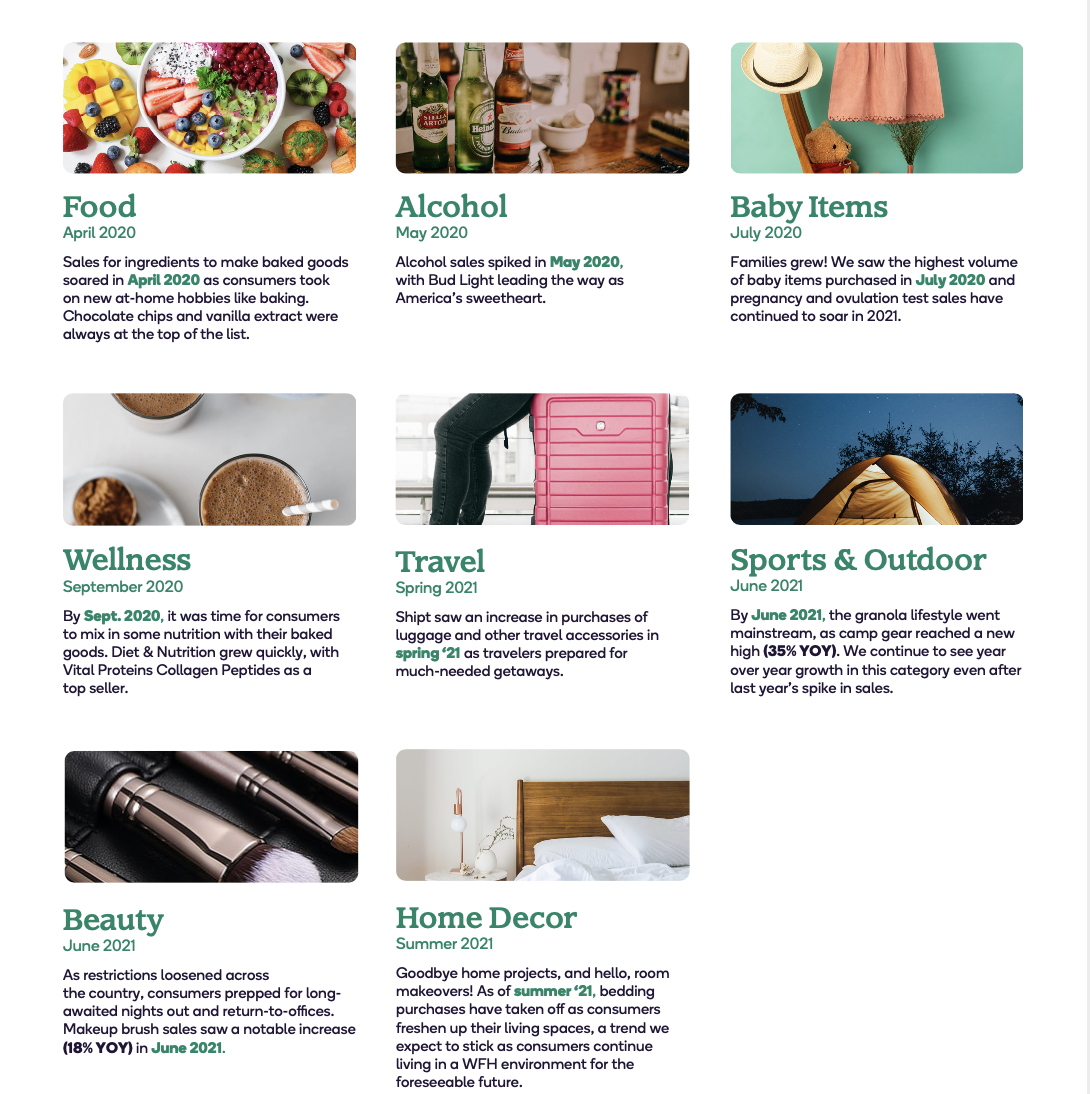 For the complete Shipt Business Snapshot report including Holiday 2021 shopping insights and to hear from our CEO, download the article assets under the media resources tab below.