Lifestyle
Shipt Summer Essentials Travel Guide
Jun 6, 2022
Shipt Summer Essentials Travel Guide
With nearly half of Americans planning a trip this summer, Shipt and drug store partners predict busy summer travel season
The long-awaited summer season is officially upon us! Whether heading to the pristine beaches of Florida with extended family or meeting up with friends at a music festival in the heart of Chicago, Shipt is the travel partner you never knew you needed this season.
More people than ever are preparing to hit the road, with a Deloitte survey anticipating that nearly half of Americans are planning a trip this summer that involves stays in hotels or other paid lodging. In fact, AAA noted that nearly 40 million people already traveled over the Memorial Day weekend.
And Shipt's data offers more insights into how people are using delivery when on their travels! Four in 10 Shipt customers have actively used the delivery service from more than one location. Today, we're digging deep into Shipt data to reveal what travelers are buying this summer season.
"Last summer, travel-sized personal care products like shampoo and conditioner remained popular on the Shipt marketplace and we expect to see category sales trending upwards this year," said Shipt Chief Business Officer Rina Hurst. "We're back traveling again. And with that will come some speed bumps and forgetfulness. As a shopping accomplice reaching well over 3,000 cities across the U.S, Shipt is the reliable marketplace for same-day delivery of travel essentials or forgotten items you need in a pinch to take the stress out of your summer vacation."
Shipt partners with the right retailers, like CVS, Rite Aid and Walgreens, to meet the needs of our customers no matter where they are. As our customers plan out summer travel, they're now often faced with uncertainty as to what stores are available in their area. Is that store still open? Will they have what I need? Can I walk there? With 17,146 combined stores in 3,556 cities around the country, our drug store partners are there and stocked with all the essentials when our customers need them the most.
"I can't tell you the number of times Shipt has saved me when on a family vacation," said Hurst. "From beach snacks to extra sunscreen, deliveries right to my hotel room or Airbnb have made my life easier and given me more quality time with my kids."
To kick off the summer season, Shipt dug into the data to unveil this year's anticipated top-selling summer items available for delivery from our drug store partners: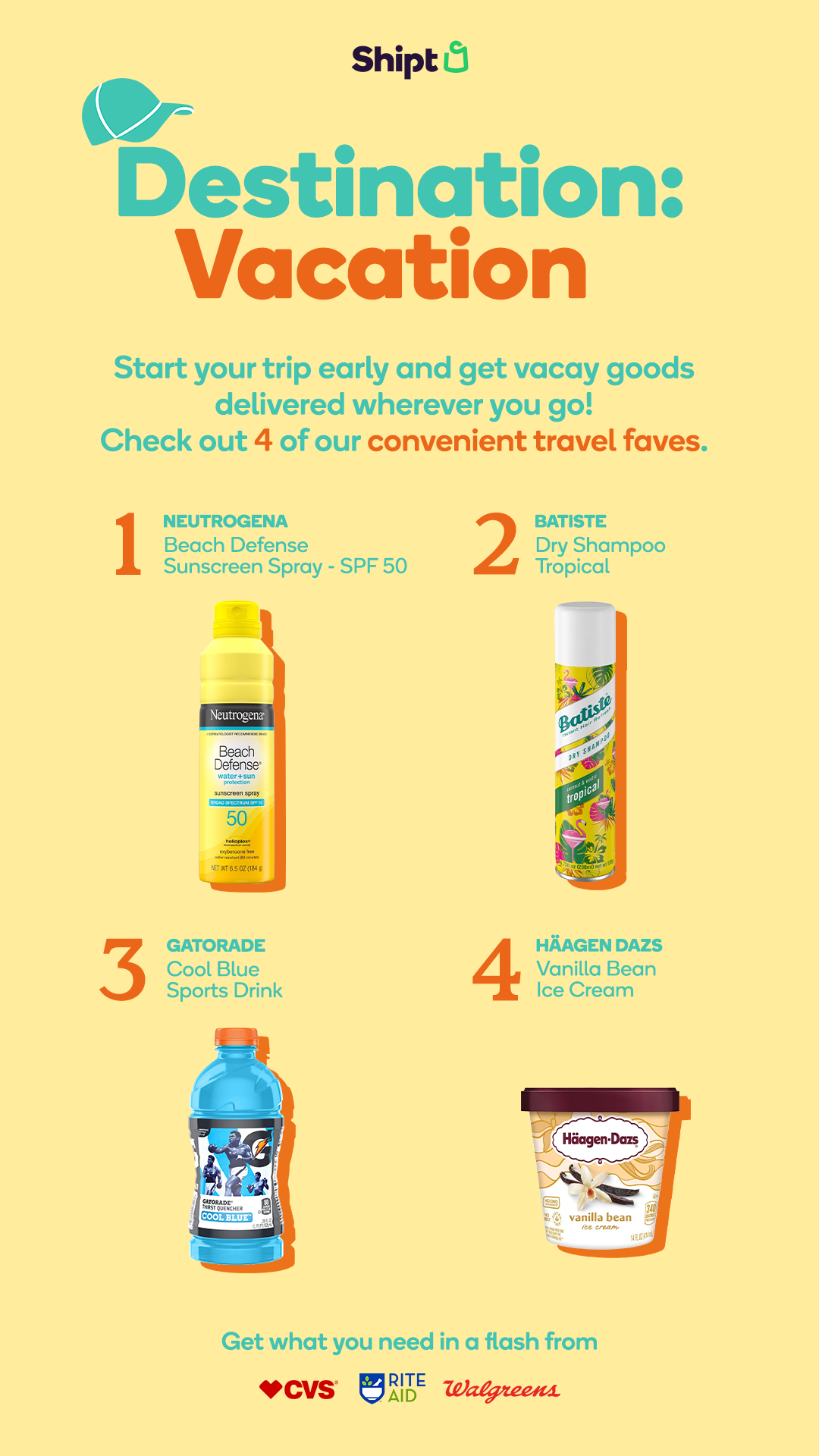 Here are more of the most-ordered items:
Jergens Natural Glow
Chex Mix
SunBum Chapstick
Essie Nail Polish
Jarritos Soda
Banana Boat Aloe After Sun Gel
Heinz Tomato Ketchup
Gillette Venus Simply 3 Women's Disposable Razors
Dive Sticks
Picnic Blanket
Hostess Hamburger Buns
From water and snacks to pool floats and sunscreen, experienced Shipt Shoppers stand ready to deliver all the summer essentials from our valued drug store partners, CVS, Rite Aid and Walgreens, in as soon as an hour. Need pool toys for the kids? Did you forget the condiments for the cookout in two hours? At the beach, parched and craving snacks? Shipt and our partners are there to do the heavy lifting this summer no matter where you are, allowing customers to kick back and relax.