Company
Shipt is Proud to Welcome Athletes and Spectators to its Hometown of Birmingham for the 2022 World Games
Jul 5, 2022
Shipt is Proud to Welcome Athletes and Spectators to its Hometown of Birmingham for the 2022 World Games
Shipt has pledged to be a Foundation Partner in support of The World Games happening July 7-17 in Birmingham, Alabama.
Shipt is proud to be a Foundation Partner of The World Games. Our company's commitment to TWG22 happening in Birmingham, Alabama July 7-17, includes monetary, social impact and volunteerism support.
TWG 2022 commemorates the 10th anniversary of The World Games. The 2022 games is the first time TWG has been held in the US since 1981, and is estimated to generate $256MM for the city of Birmingham.
The global audience is expected to exceed 158 million people, with 500,000 of those being spectators expected to visit Birmingham throughout the 11-day period. All eyes will be on the Magic City and TWG sponsors including Shipt to provide an unforgettable experience.
Attendees of TWG can expect to see a Shipt branded mobile marketing vehicle at various competition venues throughout the 11-day period including the Birmingham-Jefferson Convention Center, Hoover Met Complex and Sloss Furnaces.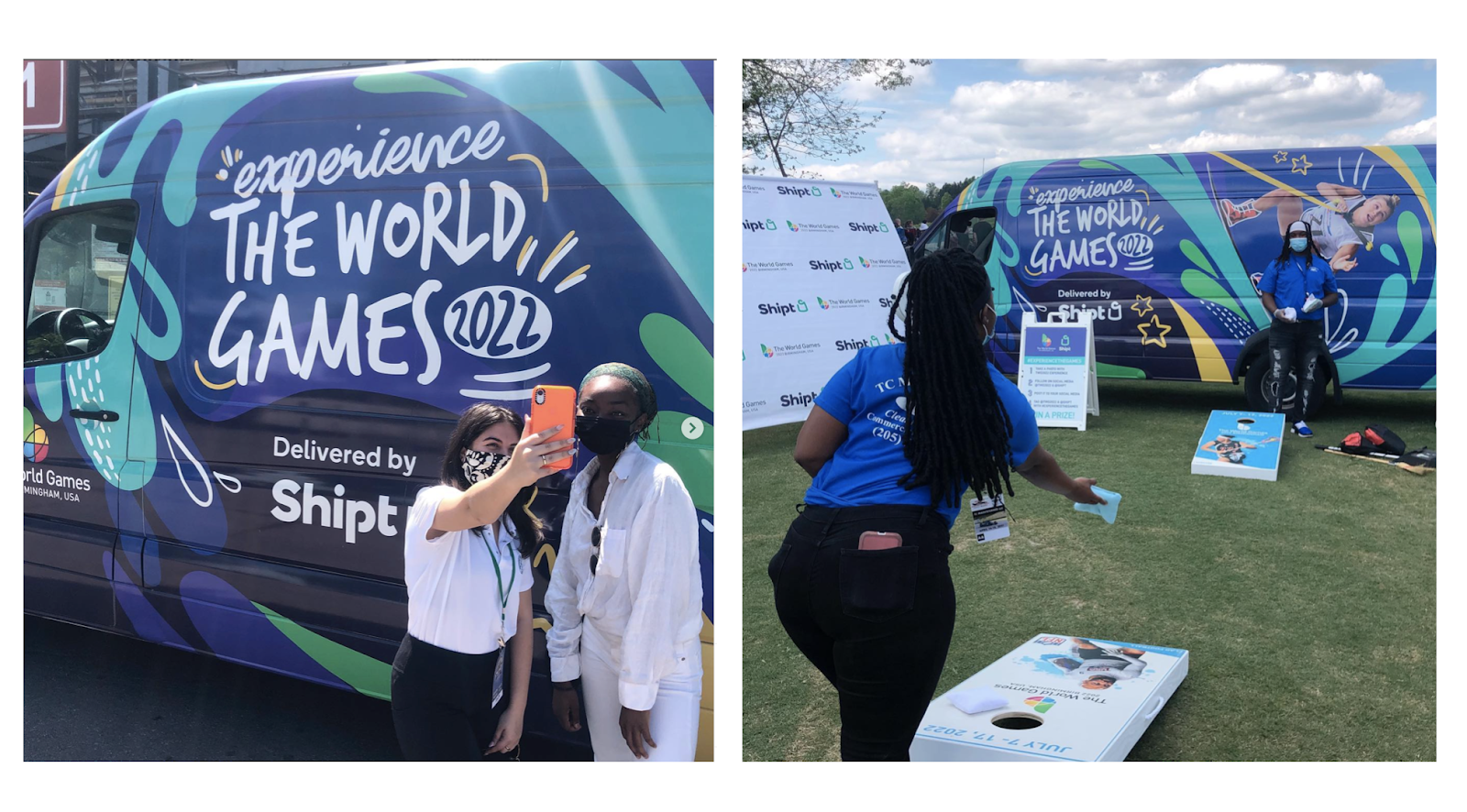 Shipt will also have a presence each day on the TWG plaza near the main entrance at 9th Ave N and 21st Street N. At this activation, we will have games, giveaways and chances to win prizes throughout the duration of the event.
More than 200 Shipt HQ team members and Birmingham based Shipt Shoppers are signed up to volunteer at The World Games. You can expect to see our volunteers scattered throughout the sporting event venues as well as a number of Shipt team members and executives attending the games alongside members of our community.
Shipt is also donating a portion of its allotted tickets to 20 youth related nonprofits and community groups in the area.
"Breakthrough Birmingham is excited to continue to provide exposure opportunities for our scholars because of benefactors such as Shipt. Students from Birmingham will get a once in a lifetime opportunity to be apart of The World Games - that's something they will never forget," said Executive Director of Breakthrough Birmingham, Mariohn Michel.
Other recipients include Dream Girls, The Man Project and The Birmingham Housing Authority. The goal is to ensure youth in the area who desire to attend the games have access to tickets.
"As a child, I received tickets to attend the 1996 Olympics Soccer games that were hosted in Birmingham at Legion Field. The gift of attending a world event in my hometown sparked a long-term interest in sports and expanded my worldview. Shipt hopes that by providing access to the games to students across our community, they will spark connections and be inspired by the possibilities in Birmingham," said Shipt VP of Economic Development & Social Impact Khadijah Abdullah.
Shipt is also proud to sponsor of the Birmingham Civil Rights Institute, and we encourage visitors to our headquarter city to check out the special exhibit, Race to Freedom, happening now through August, focused on ways athletes have played a role in activism and equity throughout our country's history.
"The Race to Freedom exhibit will highlight the inventive ways African Americans engaged sports as a means to incite change and advocate for equality. Therefore, the narrative and full-sensory experience encourages visitors to consider the harrowing intersection of racism in sports and sports as conduit for progress." Dejuana Thompson, CEO and President Birmingham Civil Rights Institute
Shipt is honored to partner with the BCRI and is optimistic The World Games is able to shed a global light on the growth of Birmingham and all it has to offer.