Community
Shipt Helped Provide Over 500,000 Meals during Hunger Action Month®
Oct 20, 2023
Shipt Helped Provide Over 500,000 Meals during Hunger Action Month®
Through volunteer opportunities and educational resources, Shipt team members were called to action to help end hunger
Every September, during Hunger Action Month, Shipt works with Feeding America® to rally Shipt team members to join the movement to end hunger. These efforts along with the commitments we made at White House's Conference on Hunger, Nutrition, and Health, are part of a broader initiative Shipt has as a company to combat food insecurity in communities across the country. For this year's Hunger Action Month, Shipt is proud to share that we contributed $50,000 which was able to help provide more than 500,000 meals through our national partnership with Feeding America.
"Shipt is passionate about ending food insecurity in the communities we serve and we've made it a key priority," said Shipt VP of Economic Development and Social Impact, Khadijah Abdullah. "This Hunger Action Month, we've continued our partnership with Feeding America and on-the-ground organizations to provide underserved communities both in our hometown community of Birmingham, Alabama and in the communities we serve across the country with access to healthy, nutritious food. Every action – big or small – is one step closer to an America where no one is hungry."
Everyone needs nutritious food to thrive, and in every community in America, people are working hard to provide for themselves and their families. Yet 34 million people (1 in 10), including more than 9 million children (1 in 8), experience food insecurity in the U.S. Shipt recognizes that there is no one simple solution to ending hunger – which is why we partner with the Feeding America network of local food banks to invest in innovative solutions to increase equitable access to nutritious food and work to address factors that impact food security, such as health and employment.
"Our partnership with Shipt has improved equitable access to food and created a lasting impact for people facing hunger. We are grateful for this continued partnership in the movement to end hunger," said Ami McReynolds, Feeding America's Chief Equity Officer.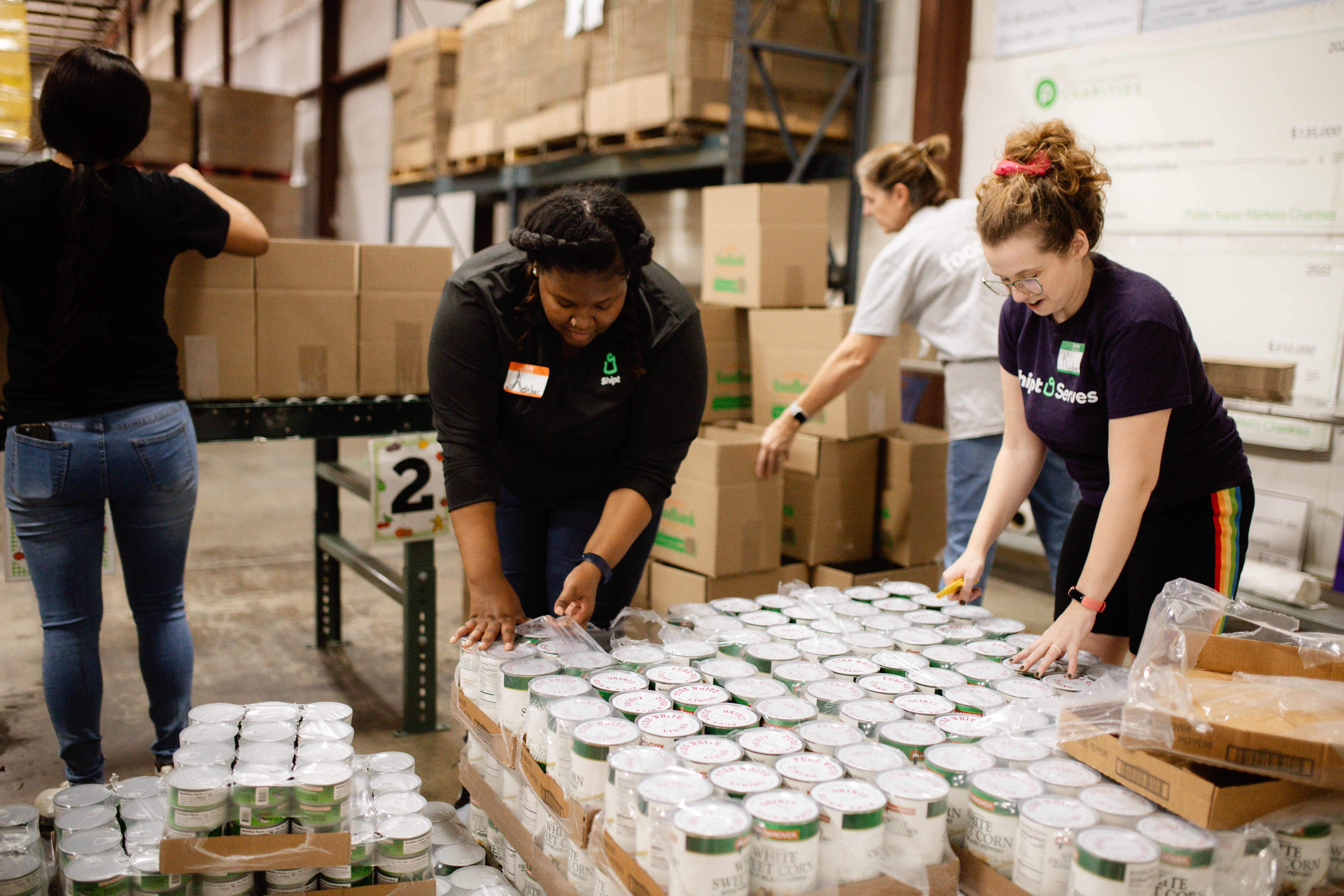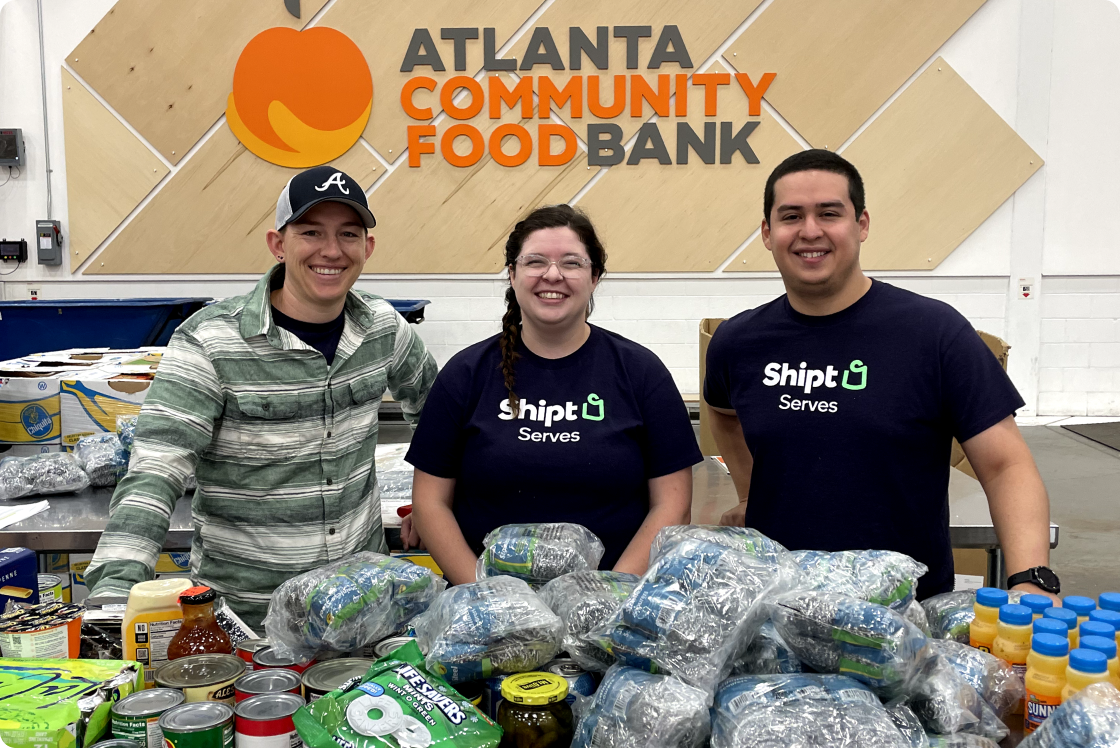 Throughout this year's Hunger Action Month we've taken the following actions:
210 Shipt team members volunteered more than 800 hours at nearly 40 different hunger related nonprofit organizations iIncluding volunteering with Lemontree, one of Shipt's newest community grant recipients, who help connect individuals and families in need to food pantries. Shipt's volunteer time with Lemontree was able to help 284 individuals across 184 zip codes to fill their homes with food.

Team members participated in Lunch and Learns with various organizations, including D.C.'s Capital Area Food Bank in their "Face Hunger" Workshop to get a glimpse into the daily realities and impossible choices of food insecurity.
Throughout the year, Shipt has partnered with Feeding America to address immediate hunger needs, expand access and opportunity, and transform food systems to address the root causes of hunger. Including:
Supporting the Community Food Bank of Central Alabama to provide 100,000 meals to children both during the school year and during the summer months when school was not in session.

Working with the Greater Chicago Food Depository's benefits outreach team to increase participation in SNAP and other critical food benefit programs.

Partnering with Houston Food Bank's Food for Change food prescription program to pilot home delivery for patients of a community health center where transportation barriers are a significant challenge.

Supporting Feeding Tampa Bay's FRESHforce program that provides workforce development and on-the-job training to individuals with barriers to employment, providing them with a pathway to self-sustainability.
"It is because of great partners like Shipt that [we] can continue to dissolve barriers to employment by providing a state certified, vetted training program," said Matt Spence, Chief Programs Officer, Feeding Tampa Bay. "Thank you for helping our neighbors build sustainable futures!"
Investing in Feeding America's Food Security Equity Impact Fund, to support community organizations such as:

'Elepaio Social Services and the Hawaii Food Bank, who reduced food insecurity in Native Hawaiian communities which increased the amount of fresh produce consumed by households and increased local produce sales by 300% in the Waianae community on Oahu, Hawaii; and

Growing Home in Chicago to provide on-the-job experience and job-readiness training at its urban farms in order to provide easy access to fresh and organic produce in underserved communities.
As Shipt continues in the movement to end hunger in America, we know we can't solve food insecurity alone. We encourage everyone to join us in the following ways:
To learn more about Shipt's social impact initiatives, please visit shipt.com/community.