Company
Shipt Gamifies Back to School Shopping Season in Its First-Ever Digital Experience, in Partnership with Roblox Developer, Voldex
Jul 11, 2023
Shipt Gamifies Back to School Shopping Season in Its First-Ever Digital Experience, in Partnership with Roblox Developer, Voldex
The retail technology company and online gaming developer are joining forces to foster connectivity and infuse nostalgia into the popular shopping season for families
Shipt is teaming up with online gaming developer and platform, Voldex, for a back to school shopping immersion within Driving Empire, the popular racing experience on Roblox. Known for their highly personalized service, Shipt is reinventing back to school shopping with this unique digital experience that builds modern-day connectivity for millennial parents and their families on the global Roblox platform where millions of people connect and communicate daily.
Today's gaming culture focuses on a familial connection, with 77% of American parents and caregivers playing video games with their kids. Tapping into parents' nostalgia for iconic computer and console games, and families' obsession with Roblox experiences, the Shipt back to school experience brings a fun, stress-free twist to the busy shopping season. Within Voldex's Driving Empire, users can take on the role of a shopper with Shipt to deliver popular items on customers' back to school lists, such as school supplies and snacks. Players will use a virtual Shipt app to claim orders for pick-up and delivery to customers, battling against the scheduled delivery time to earn in-experience currency and other desired items for accurate, on-time deliveries. By putting users in the driver's seat of shopping, Shipt's back to school experience is reminiscent of the good ol' days of shopping in-person, but from the comfort of your own home.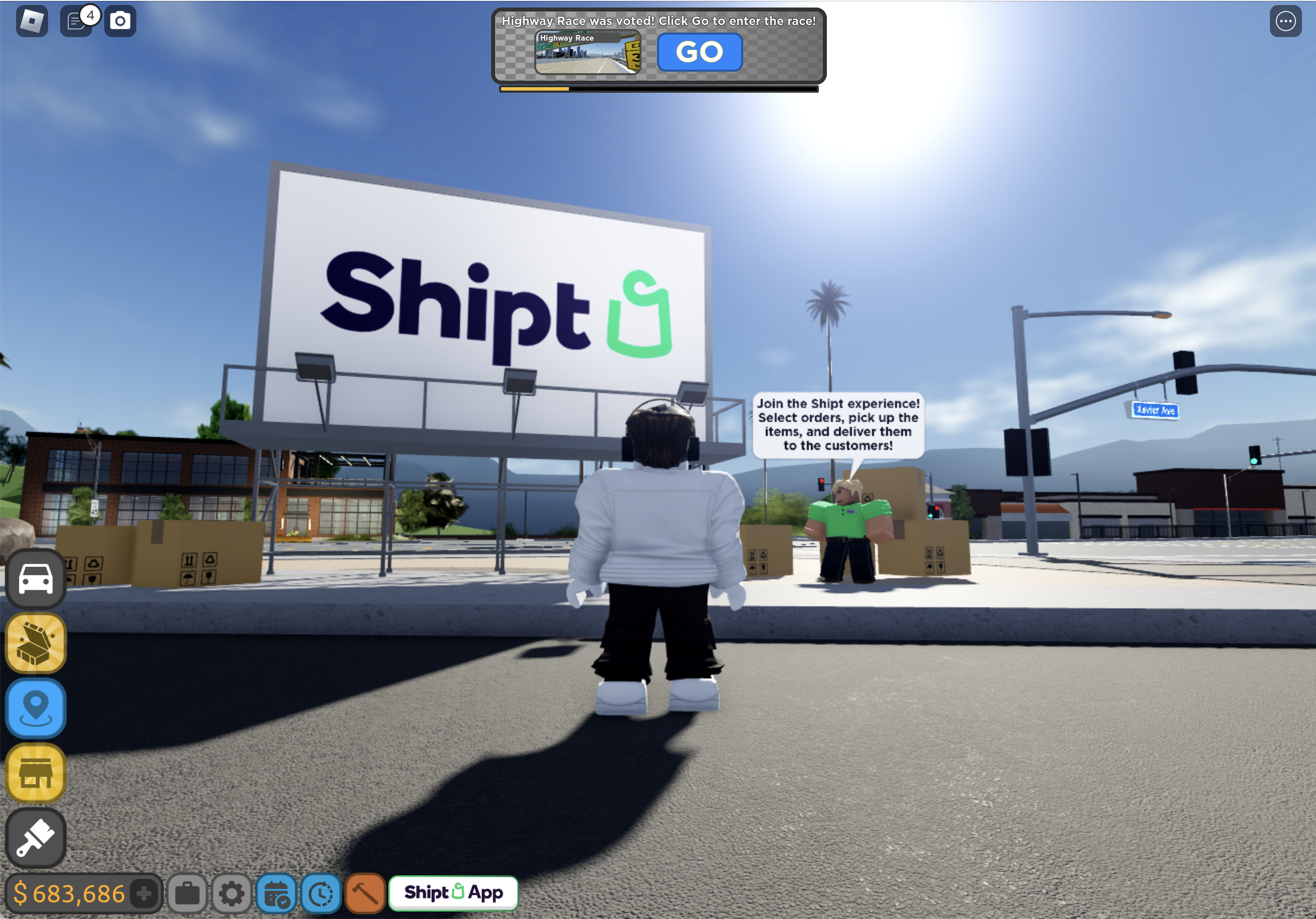 "There is something so nostalgic about shopping for a new school year in stores," said Shipt Chief Marketing Officer Alia Kemet. "As a mom to four children, I've had my fair share of back to school shopping experiences and they're often stressful and expensive - anything but nostalgic. Through this partnership, our hope is to bring the fun and connection back to a now busy shopping season."
"We are incredibly excited to announce our first brand partnership. We are happy to join forces with Shipt. By integrating the Shipt app into our experience, Driving Empire, we are bringing a new level of realism and interactivity that will resonate with our community on the platform. This partnership aligns perfectly with our commitment to pushing boundaries and providing unforgettable immersive experiences," said Harry Bienenstock, Head of Marketing & Monetization at Voldex.
With more than one million daily visits, Driving Empire is the ideal choice for Roblox community members seeking a true-to-life driving and racing simulation. With over 250 cars and unlimited customization options, users can race, compete, and expand their car showroom while showcasing their collections at community events. The experience has garnered more than 777 million visits and 1.5 million favorites, solidifying Voldex's mission to create highly explosive and entertaining experiences for everyone.
Available now through July 21, 2023, users can log onto the Roblox platform and search for Driving Empire to play the Shipt back-to-school experience.
In addition to its first-ever immersive shopping experience, Shipt is also easing the burden of the back to school season with deals on supplies, snacks, household essentials and more now through Labor Day.
For more details, visit www.shipt.com and follow @shipt on Instagram, TikTok, and Facebook. New customers can sign up and learn about availability in their area by visiting the website or by downloading the Shipt app. For visuals and media assets, download our press kit here.