Lifestyle
Shipt Data Shows Your Diet Days are Numbered
Feb 3, 2022
Shipt Data Shows Your Diet Days are Numbered
Shipt data shows an obvious spike in "healthy foods" at the beginning of a new year and the number steadily declines after the first 6 weeks.
Low carb, low fat, low sugar, if these are terms you're searching for you're not alone in trying to lower the number on your scale at the beginning of a new year. Nearly 1.5 million searches in our system pop up in the month of January under healthy lifestyle words (think "paleo", "keto", "vegan" and "gluten-free"). To some of Shipt's health-seeking customer base, these words may provide hope as they over-indulged during the holiday season. One way to fix it? New year's resolutions!
The idea that there's no better time to change your eating habits than a new year really begins the week before January 1 according to Shipt data. Searches begin to increase for items like salads, spinach and sweet potatoes around December 28 and continue to rise for the first few weeks of January. The most searched for term is "gluten-free" followed by "vegan", "keto", "low-carb" and "low/reduced fat". These trends hold strong through most of January before seeing a significant dip in February.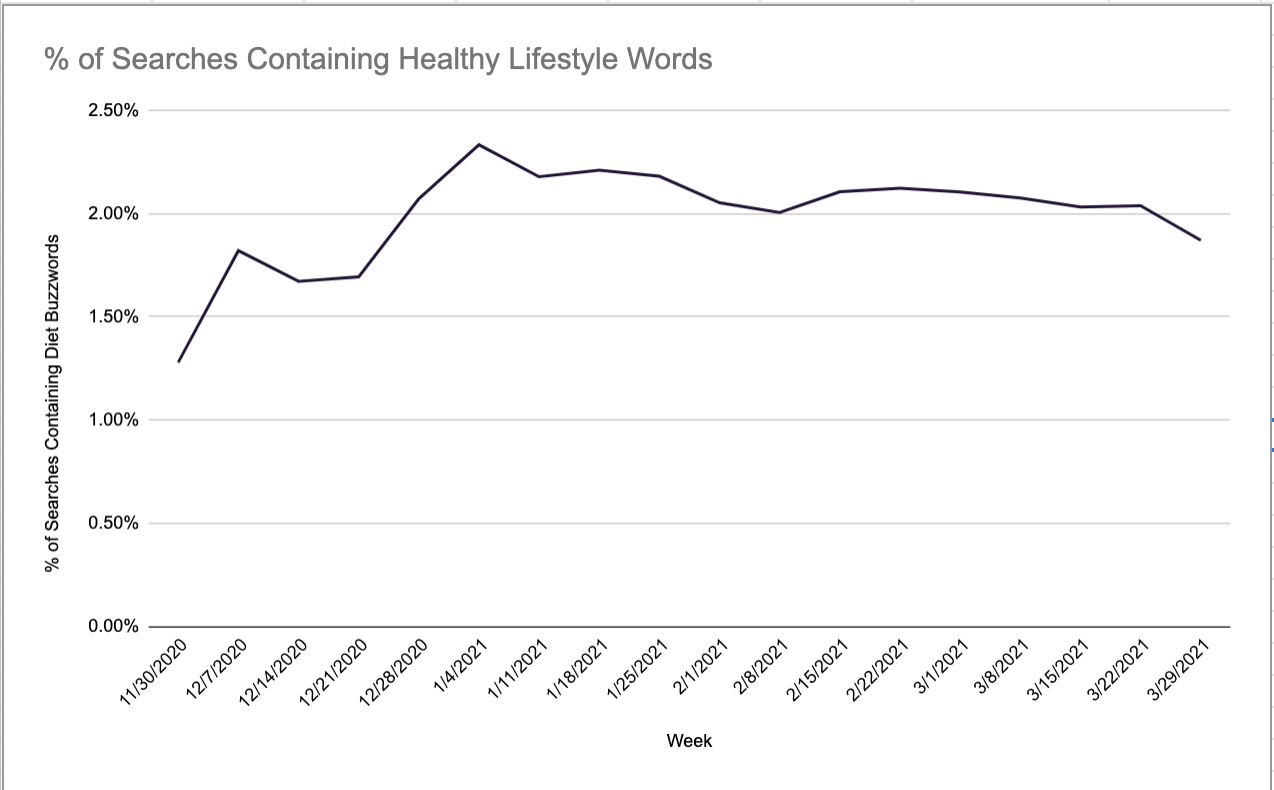 Graph shows % of searches containing diet buzzwords within an 18 week period.
Our data shows the biggest decline in healthy eating happens between the last week of January through the second week of February just as people rush to stock up on sweet treats for Valentine's Day, all in the name of love, of course. In 2021, for the week following Valentine's Day, there were 15% fewer searches for fruits and veggies and all things "healthy." However, it doesn't take long for the conversation hearts to turn into conversations in one's head about their recent abandonment of their healthy eating habits. We know it, because we see it in our data. Just one week after bingeing out on all things chocolate, heart shaped and decadent, the top searches are back to foods like kale, carrots and cauliflower.
Although around the second week of March, after two weeks of trying to transform the cruciferous vegetable into childhood favorites like pizza and mac and cheese, we see a gradual shift in habits. We believe people begin to "give up" as orders start filling up with chips and other processed snacks while the most popular items from the beginning of the new year slowly disappear.
So when exactly do people ditch their new year's resolutions? It's safe to say if it's healthy foods ordered through Shipt, we anticipate most will call it quits between Valentine's Day and the first day of Spring.