Company
Shipt Celebrates Asian American and Pacific Islander Month "Hand in Hand" During the Month of May
Jun 16, 2022
Shipt Celebrates Asian American and Pacific Islander Month "Hand in Hand" During the Month of May
Shipt and SAUCE, a Shipt employee resource group, spent the month of May focused on the traditions of AAPI team members while working to educate others on the importance of honoring AAPI culture and history.
The month of May was an exciting time for Shipt HQ as the team celebrated AAPI (Asian American Pacific Islander) Heritage Month in multiple ways.
In partnership with Shipt's employee resource group, SAUCE — which stands for Shipt AAPI Unity and Community Engagement — Shipt observed the nationally recognized month which pays tribute to the generations of Asian American and Pacific Islanders who have enriched America's history and continue to pave the way for its future success.
This year's theme for Shipt HQ's AAPI Heritage Month was "Hand in Hand", a message that acknowledges the deep connection of community and the tradition of sharing cut fruit as an act of love, forgiveness, and family in AAPI cultures.
Some key events offered to all of Shipt headquarter employees included a cooking class with team member, Thi Denerson; an in-person and virtual movie night to watch Spirited Away, a classic animated feature by noted Japanese director, Hayao Miyazaki; and a fireside chat with the New York Times bestselling author of Crying in H Mart and Grammy-nominated musician, Michelle Zauner.

Shipt CBO, Rina Hurst, introduces New York Times bestselling author Michelle Zauner to the Shipt HQ team via zoom before Zauner answered questions about her book, Crying in H Mart
"This AAPI Heritage Month, we invited team members to connect around ways to create an authentic space for the AAPI community, while also providing education opportunities and fun activities to highlight the diversity of and unique contributions from AAPI culture," said Kristina Pham, Senior Corporate Counsel at Shipt and Co-Lead of the employee resource group, SAUCE. "Many hands make light work and there were so many hands that contributed to make this year's AAPI Heritage Month a special and celebratory experience that I'll never forget."
There are more than 331 team members in the SAUCE ERG, which is focused on cultivating an inclusive community committed to education and AAPI empowerment within and beyond Shipt. This year, the group also donated 125 copies of Crying in H Mart to after school programs in Oakland's Chinatown neighborhood.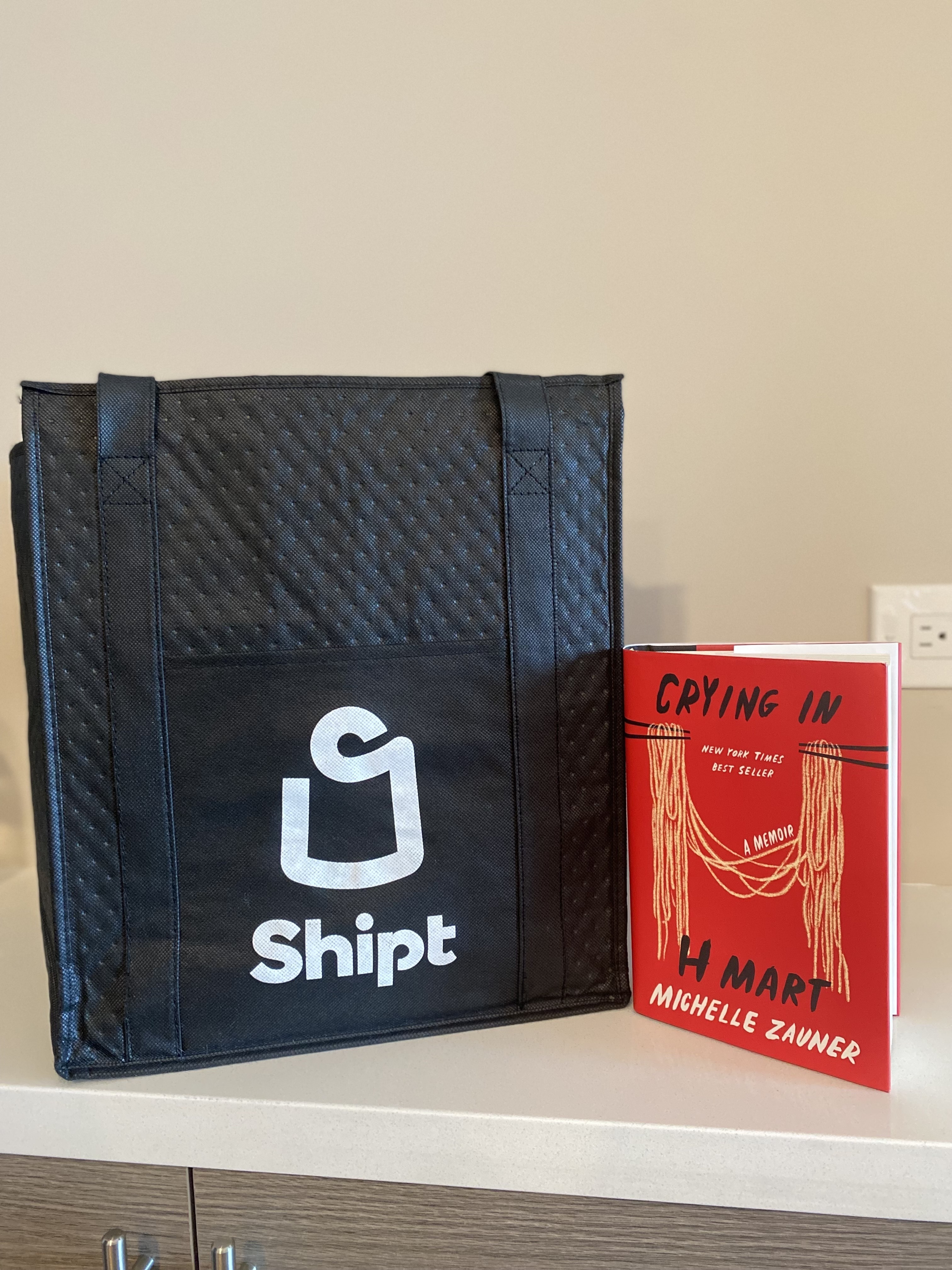 Shipt HQ donated 5 copies of Crying in H Mart for every team member who purchased 1 copy.
In addition to the fun and enlightening events, employees also had access to a learning resource that explained the history, stigma, and statistics around mental health and the AAPI community, as well as resources team members can reference and use to find support throughout the year.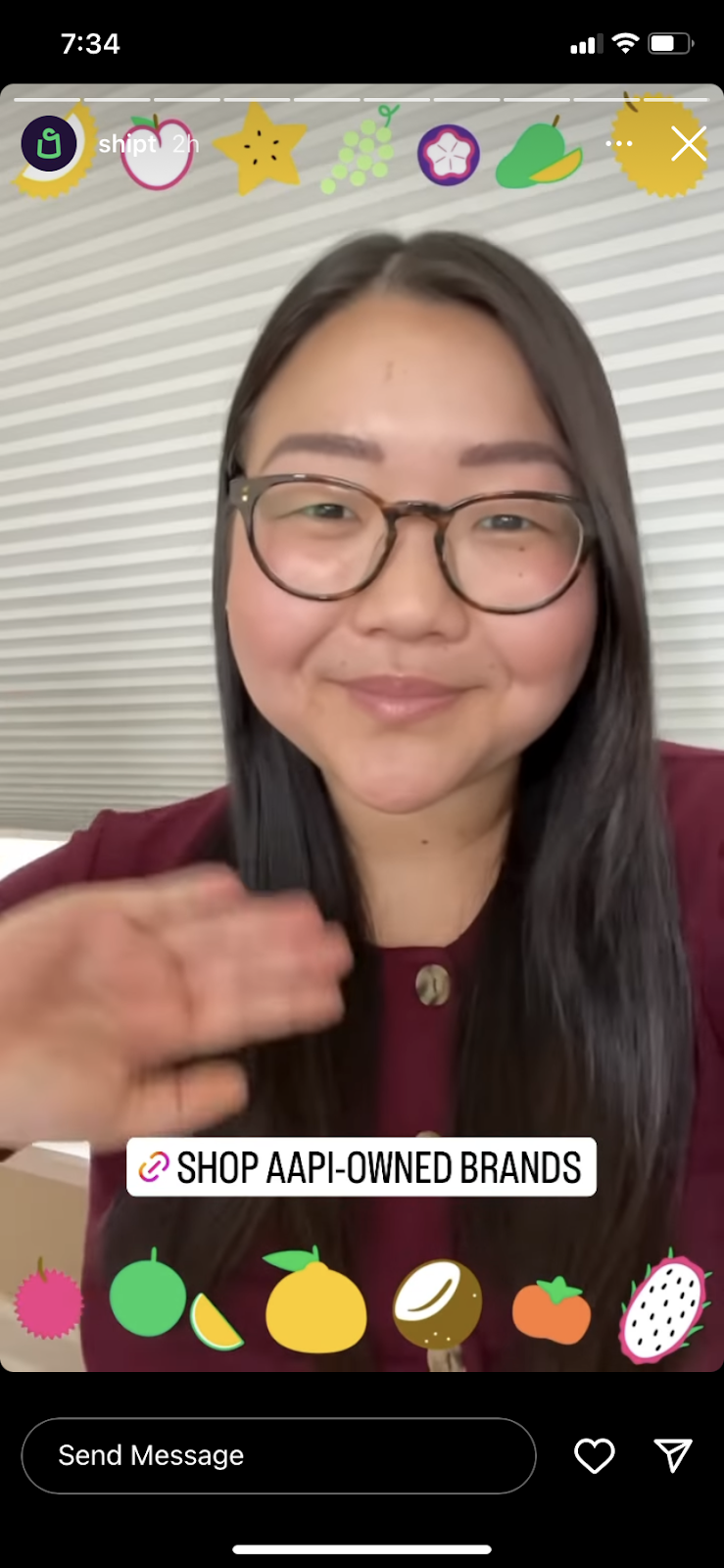 Morgan Fitzgerald, an Associate Project Manager at Shipt, shared on the company's Instagram stories about how fruit is an important part of the AAPI culture.
Alongside our ERGs, Shipt's goal in taking time to recognize heritage months throughout the year, such as AAPI Month, is to increase awareness and educate team members about various cultures and traditions in order to foster even stronger inclusivity within the company.