Community
Newsweek Recognizes Shipt for America's Best Customer Service. Here's How We're Celebrating During Customer Service Week
Oct 6, 2022
Newsweek Recognizes Shipt for America's Best Customer Service. Here's How We're Celebrating During Customer Service Week
Shipt celebrates its award-winning support team with gusto during National Customer Service Week 2022.
As a people-first company, Shipt is passionate about customer service. We put customers, Shipt Shoppers, and the communities we serve first in everything we do. In fact, Newsweek recently honored Shipton their list for "Best Customer Service 2023" and out of thousands of companies, our team was recognized.
This week, October 3-7, is National Customer Service Week, and Shipt team members are setting aside time to celebrate Shipt's incredible support team and the recent recognition from Newsweek. The week will be filled with excitement and activities to recognize our awesome teams.
Monday's kick-off celebration featured a big breakfast bar to fuel team members and started a big sale on Shipt's online store for team members to grab Shipt swag at a deeply discounted price. Tuesday and Wednesday were extra sweet: ice cream with team managers and fall-themed treats available all around Shipt HQ. An in-office party complete with food, photo booths, a Shipt team member DJ, and more will round out the week on Thursday, with Friday's All Hands virtual gratitude meeting giving teams another intentional moment to feel celebrated.
"For me, planning a moment like this is an honor, because it's a great way for us to get together to celebrate our teams and recognize all their outstanding work," said Yasmina Bouriche, an experience manager who took part in Shipt's Customer Service Week celebration and planning committee.
So, why is customer service great at Shipt? Our company values shine through each interaction that we have with customers and Shipt Shoppers, creating a strong community that sparks connections that show why every person counts. So far in 2022, when shoppers and customers have reached out in need, we've answered in an average time of mere seconds. Talk about service on the go!
"I'm incredibly proud of this team and how each-and-every day they demonstrate Shipt's values while providing some of the best customer service in our industry," said Tim Rauschenbach, vice president of customer service, Shipt. "As a leader, it is awesome to work toward and achieve goals with such passionate individuals."
Highlighting Shipt's Experience Team
Not only is Shipt constantly putting customers first, we also build our team to reflect this commitment. Our experience team, dedicated to improving customer and shopper experiences, is hundreds of members strong and is able to support in both English and Spanish.
With team members celebrating all week, we took some time to learn how a few experience members reacted to news of the Newsweek award and commented on the culture of customer service at Shipt.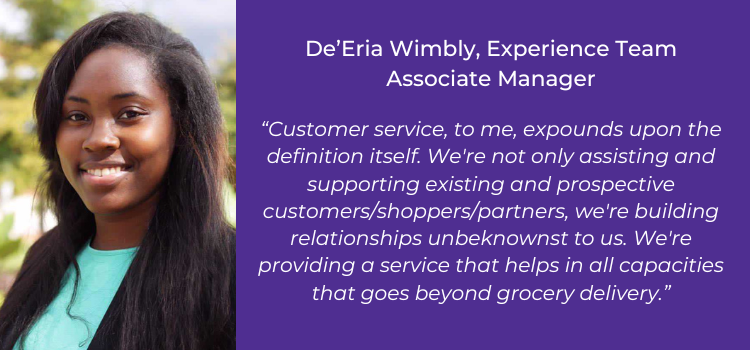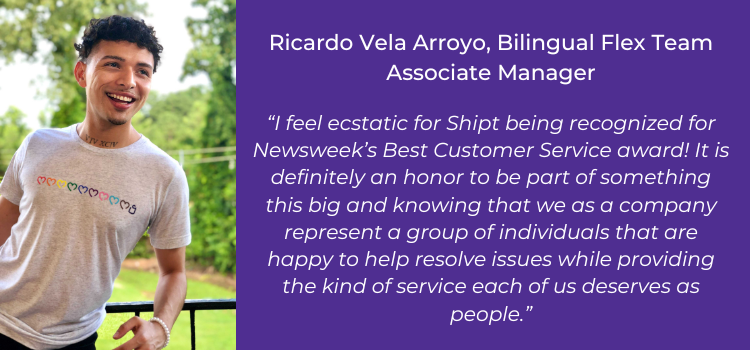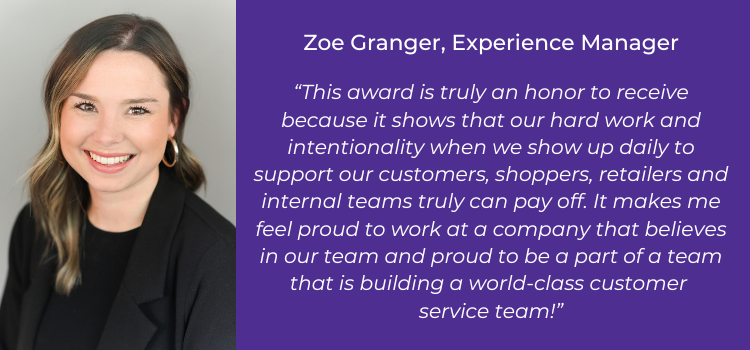 "This celebration is about far more than just our jobs as individuals," said Rauschenbach. "The parties and moments of fun stand as a reminder of who we are as a company. We are striving to have a positive impact on our customers, shoppers, partners, teams, and communities and we're always looking to grow and learn together."
Shipt's team is motivated by their connections with each other and the communities we serve. We are proud to work each day to bring the stores to customers' doors and we appreciate everyone who lets us serve them along the way.