Company
Meet Chris Falk, Shipt's New Chief Financial Officer
Oct 29, 2021
Meet Chris Falk, Shipt's New Chief Financial Officer
Our employee spotlight allows you to get up-close and personal with some of our key team members.
Chief Financial Officer, Chris Falk, is a strategic finance, accounting, and procurement leader who comes to Shipt after 12 years at Target where he held various leadership positions, with emphasis on merchandising and capital. Most recently, he led Target's strategic financial planning processes for near and long-term horizons. Before he joined the Target team, Falk worked for PricewaterhouseCoopers, LLP in Portland, Oregon. Falk is a graduate of the University of Oregon with a Bachelors of Science in Accounting, and he holds an M.B.A from Indiana University's Kelley School of Business. He is also a licensed CPA.
We sat down with Falk to learn more about his professional background and his life outside of work. He says he and his wife Jen are really loving this stage of life, raising their two young boys and seeing the world through their eyes. As a family, they enjoy spending time outdoors, especially when it involves biking or golfing. Read on to learn six interesting facts about Falk.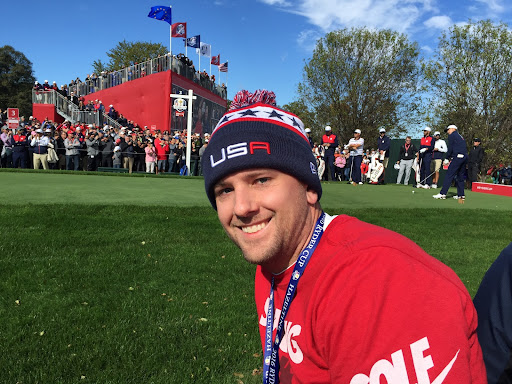 1. What drew you to Shipt?
A couple of reasons, both personal and professional. Professionally, Shipt offered the unique opportunity to join a fast growing technology company, with a product offering that plays directly into the future of how consumers engage with the retail experience. It really resonated with me, having spent the past decade on the other side of the retail business. Additionally, I knew that my experiences at Target served me well to assist in helping accelerate a younger, fast-paced company like Shipt, that's experiencing tremendous growth. Personally, Shipt provides me and my family a new adventure. We wanted the ability to give our kids the opportunity to see a different part of the country and immerse ourselves directly into the community and culture surrounding Birmingham, AL. We had never lived in the south before, and so far, it has been such a delightful experience.
2. What do you hope to achieve in your new role?
I hope to create a diverse culture and continue to grow an energetic team that helps accelerate Shipt's sustainable growth. Finance plays such a pivotal role in an organization's growth, and each member of my team is critical to this vision.
3. What is something you wish someone would have told you early on in your career journey?
If not you, then who?
4. What has been one of your biggest challenges as a leader?
It's challenging, but you must use the moments in which work has missed the mark as a learning moment, rather than a moment to critique and become frustrated.
5. What song do you always sing along with?
"From now on," The Greatest Showman. This soundtrack has become a staple in the car and my kids absolutely love the movie!
6. What is the one item you always have in your Shipt cart?
Skippy Peanut Butter