Services
Just In Time for the Holidays, Shipt Rolls Out New Product Features and App Updates
Nov 17, 2022
Just In Time for the Holidays, Shipt Rolls Out New Product Features and App Updates
The latest features give shoppers, customers and retailers an improved Shipt experience this holiday season
At Shipt, we're celebrating the holiday season by rolling out some new features and app updates that make the experience of using Shipt even better for shoppers, customers and retailers across the Shipt community. By helping shoppers be more efficient, delivering a more intuitive experience for customers and streamlining retailer processes, we're saving precious time that allows people and businesses to concentrate on what matters most during the all important holiday season.
"With everything we do, big and small, launch or upgrade, enhancing the Shipt experience is our focus," said Smrutha Ipparthi, chief product officer, Shipt. "We're excited to be introducing these enhancements, as they're creating easier and more efficient experiences for shoppers, customers and retailers during the busiest shopping time of the year."
New Shopper Tools
Shoppers asked - Shipt delivered! The latest app enhancements take big steps to improve processes and address shopper feedback.
Drop Orders Anytime: If a shopper has something come up before they start shopping an order, they no longer need to call or chat us anymore. With the click of a button, shoppers can now drop most orders - HQ teams will take care of the rest. This saves shoppers time and gives us flexibility to ensure orders are claimed by another available shopper.

Incorporating Chat into Apps: Conversations between shoppers and customers will now take place in the Shopper App instead of SMS, creating a central hub for easy access to all things Shipt. This will help support teams more easily troubleshoot, when needed, with order information all in one place.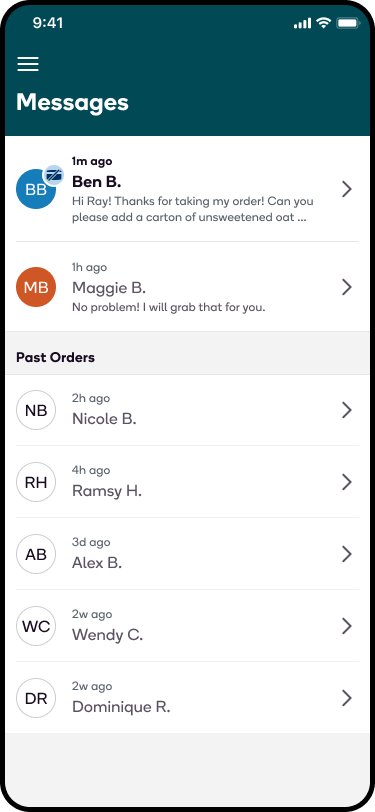 Coming Shortly! Automatic Ratings Forgiveness: While rare, we all know that there are some customers, who, no matter what a shopper does, give low ratings with no feedback as to why. And we know that more often than not, that isn't about the level of service from their shopper. So, soon, we will roll out a new feature that tracks customer rating patterns and helps evaluate when a customer's rating should be forgiven.
Redesigned Customer Experience
To save time and improve the experience for customers who use Shipt to shop at a variety of stores, we simplified how people discover and browse for products. In testing this redesign, we saw an uptick in the number of customers adding products to carts and completing orders with multiple retailers.
Universal Search: Our new browsing feature allows customers to first search for the product they're looking for and then serves up results across all the retailers that carry that product. Not only does this streamlined approach help customers better navigate situations when products are out of stock, it also saves customers time when they're browsing and building shopping lists.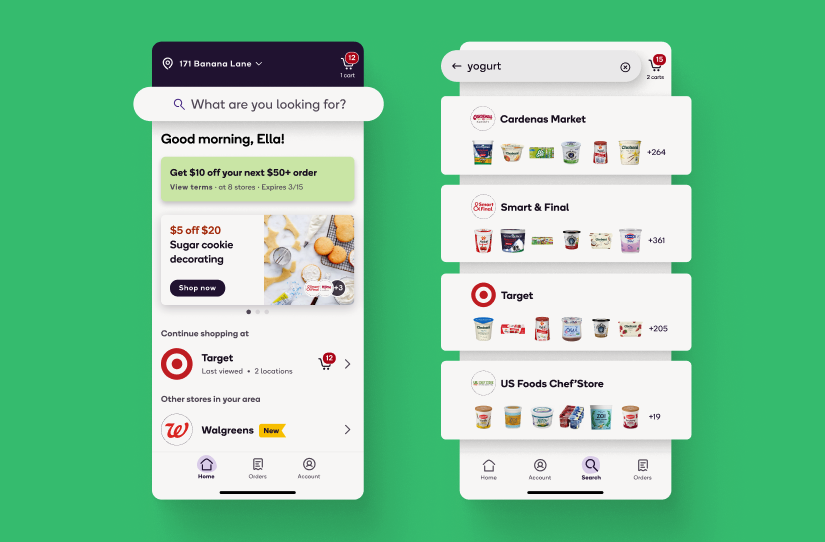 Homepage Refresh: Before, when a customer opened the Shipt App, they'd land on the page of the store they previously shopped. Now, we're giving customers visibility into all stores in their area, as well as bumping up inspirational shopping content, showing deals more prominently and making it easier to access the multiple carts people may be building at one time.
Upgraded Retailer Processes
We're constantly looking for ways to make deliveries seamless for our retail partners. Most recently, we've rolled out enhancements that lead to a smoother pick-up process for orders leveraging Shipt Driven, our delivery-only, last-mile offering for retailers.
Package Scanning at Pick-up: Retailers can now provide more upfront details and have shoppers scan packages at pick-up to improve accuracy across all components of an order.

Shopper's Name on Orders: As soon as the order is claimed, we're now quickly making the shopper's name available to the retailer for an easier, friendlier and more reliable hand-off.

Delivery Dimensions: We're now making it possible for retailers to provide us with more details on an order's size, so we can improve the likelihood that an order is able to fit in a shopper's vehicle.
Shipt continues to invest in a great experience by listening to feedback and improving in all the ways that matter most. We're excited about these new features and app updates and look forward to seeing how they make the holiday season and beyond easier for all across the Shipt community.
Click here to learn more about Shipt or sign up to become a shopper.