Community
Friendship is in the Aisle - Sparking Heartfelt Connections Through Shipt
Feb 10, 2023
Friendship is in the Aisle - Sparking Heartfelt Connections Through Shipt
Our gift to you this Valentine's Day? This feel-good story about shoppers who met through Shipt.
Holly, GaLynn, Jennifer, Dan, Toye and Delana are the best of friends with one thing in common - they all earn on the Shipt platform in Texas. It all started with Holly, an enthusiastic local shopper with a passion for helping and connecting with others. Since she started earning on the platform, Holly has worked to cultivate a close-knit network of shoppers who regularly offer advice and support one another. Over time, through this continued support and communication, Holly and several other shoppers in the area formed a tight friendship circle that includes regular meet-ups outside of shopper events.
At Shipt HQ, we are dedicated to sparking connections, not only with consumers who use our platform but also between those who earn on our platform. And this group of friends is the perfect example of how the Spark at Shipt HQ extends to shoppers within their own communities. From potlucks and costume contests to trips and birthdays, this group of friends count on each other and consistently find new ways to connect and support one another.
As the group's social butterfly and connector, Holly met each of her friends out and about in the community. "If I saw someone in a Shipt shirt, I would introduce myself and offer to help them if they needed it," says Holly. Jennifer turned to Holly for advice while shopping for an order and the two quickly connected through their shared sense of humor. Toye also met Holly while out shopping and was immediately encouraged by Holly's attitude and drive to provide excellent customer service.
Dan met Holly on his third day of working with Shipt. She quickly introduced herself while out shopping for an order, taking the opportunity to share valuable shopping pointers. Those couple of minutes made all the difference for Dan. "Like Holly, I want to acknowledge or introduce myself to regular or new shoppers. That couple of minutes will make a difference," said Dan. Since that first run-in with Holly, Dan has shopped nearly 6,000 orders, deepened his relationships with customers and also started to introduce himself to other shoppers just as Holly introduced herself to him and other shoppers.
Outside of establishing camaraderie, celebration is a big part of the group. Soon after joining several group outings, Toye attended a New Year's Eve Party at Holly's house where she was pleasantly surprised with a birthday cake.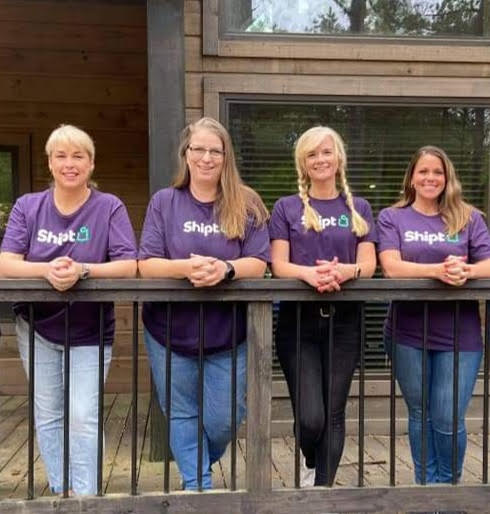 Jennifer, Holly, and GaLynn also plan girls' trips to unwind when they're not shopping. The group of friends have taken several trips together.
" …we started wanting to spend more time together and have been on several trips now! We have done a girls trip to Broken Bow, Oklahoma where we rented a cabin and ATVs for the weekend. I have been on a cruise with three other shoppers and have been to Honduras, Cancun, The Bahamas and Cozumel. I also took a girls trip to Hot Springs Arkansas where we rented a house and did the old bath houses there!" - Holly A.
Shipt is always excited to learn how shoppers connect through the platform and support one another in communities across the country. To learn more about becoming a shopper, click here.